Engineering of bulk material handling equipment
We are a company for the engineering of general cargo and bulk material handling equipment. Bulk material is unloaded from ships using special grab ship unloaders. Own software (simulation) is used to initially determine the capacity, the required number of cycles and the characteristics of the unloader for all ship sizes – from barges to Handysize, Handymax, Supramax, Panamax, Post-Panamax, Capesize and Very Large Bulk Carriers (VLBC), the latter with a capacity from 10,000 to over 300,000 DWT. The crane unloads the bulk material from the ship to belt conveyors that are able to transport it for several kilometres to a nearby disposal site, plant, etc. In later phases, we prepare all required calculations, numerical simulations and production drawings that enable the manufacturing and assembly of the machine as required by the customer, in several languages around the world.
 
Rope physics simulation of SULG with MBD (multi-body dynamics) software:
Mechanical engineering and special requirements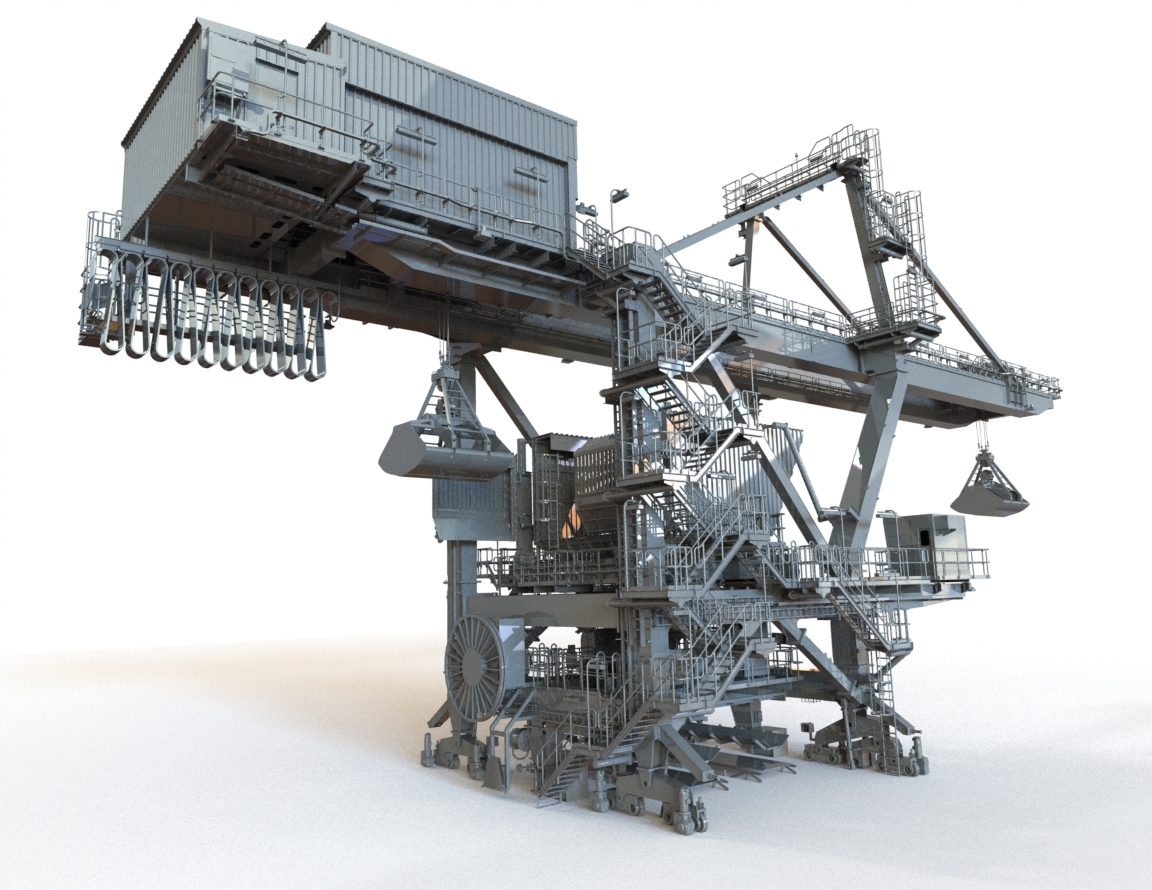 Modern ports, power plants and logistics centres have increasingly higher demands for unloading capacities for bulk material. Our engineering provides tailor-made solutions.
Mechanical engineering of bulk material handling equipment can incorporate special requirements such as:
dust suppression systems,
explosion-prevention,
fire-prevention,
additional safety features,
special protection of transfer points,
several feeders,
vibrating feeder/belt feeder,
reversible conveyor,
raising the jib of the crane, etc.
NOKRAN INŽENIRING – experts in mechanical engineering of bulk material handling
Designing and engineering of bulk material handling require a special approach due to the characteristics of bulk material, which is composed of small, loose parts, e.g. gravel, sand, barley, corn, coal, wheat, dry soil, etc.
Bulk material has several physical properties:
granulation – the coarseness of the material,
bulk density – mass divided by volume of the bulk material,
angle of repose and angle of slide,
friction – friction between bulk material particles and friction between the surface and the bulk material.
Bulk material is also exposed to chemical reactions. The chemical composition can change or particles break off – abrasion. Bulk material can be solidified, abrasive, corrosive, fragile, explosive, flammable, it can contain moisture, be sticky or hygroscopic.
Crane construction therefore has to adapt to customer requirements and the characteristics of the material. This is why NOKRAN inženiring is the right choice. We have extensive referential facilities that successfully operate in ports, shipyards and warehouses. We also prepare prototype materials handling equipment as required by the customer. Machine construction, such as crane construction and the construction of lifting equipment, is an extensive industrial branch linked to international logistics systems. The European market is today covered only by a few multinational corporations. Crane construction and mechanical engineering are a major challenge for the future, as unloading will have to be faster and cheaper, while ships will continue to grow in size.
DEM (discrete element method) simulation of chute on SULG: